The Best Tools for Passing Your Florida State Contractors Exam

Online Learning Program
Classroom Learning Program
Instructor Phone Support
96% Pass Rate & 100% Guarantee
Our Learning Program is the most comprehensive available, we pinpoint the content currently covered on the test and over 96% of our students pass their examination on the first try.
---
Roofing Trade Knowledge "Learning Program"
---
Learning Program:
Our "Learning Program" consists of the following suite of learning modules which may be purchased individually or most commonly purchased as a complete "Package" by going to the bottom of this
page.
click here
"Exam Review & Highlightng Guide" Modules

Our Narrated "Exam Review & Highlighting Guide" Lectures walk you through each of the required State "Exam Reference Books" reviewing the concepts from these books which are currently being covered on the exam and explaining the problem solving techniques that you must master to do the math problems on your test.

These Presentations also pinpoint "Answer" passages to Highlight and critical pages to Tab for quick location. You may review each section in the convenience of your own home, on your own schedule, at your own pace, as often as you like until you have mastered the required material, and using the latest in computer-based-training technology.

We do not simply give students endless pages to read like other schools.


View this video for more information on these modules.

$175 Exam Review - Roofing Trade Knowledge Exam
Interactive "Study Questions" Modules:

We review the exam each and every time it is given and our "Study Questions" will be very similar to the questions that you will see on exam day. Each question in our cutting-edge program is accompanied by a "Hint" and "Detailed Explanation". For tough estimating or mathematical problems "Narrated Solution Presentations" are also attached right to the question for your review.

These features will ensure that you learn how to work through each problem or find the answer to each and every question on your exam. In the event that you do not fully understand any material, you are encouraged to call us at your convenience and one of our helpful instructors will be happy to review or explain any items and tutor you personally on the subject.

View this video for more information on these modules.

$175 Study Questions - Roofing Trade Knowledge Exam
"Flash Card Review" Modules

Time is of the essence on exam day! The "Flash Card Review" component of our Learning Program is designed to help you develop and hone your search procedures to select the appropriate reference book and locate the correct answer pages quickly and efficiently. This review can be taken by individual book or by entire exam depending on your needs or skill level, and will pinpoint any areas of weakness upon completion.

Students who train with our Flash Card modules are "Up-To-Speed-To-Succeed", on exam day.


View this video for more information on these modules.

$100 Flash Cards - Roofing Trade Knowledge Exam
"Practice Exam" Modules:

Unlike other schools that only create one (typical) practice exam, our revolutionary system will randomly-generate a new set of questions each and every time you launch a module and utilizes the exact same content criteria the State uses to compile the real test.

This program will generate a unique "Performance Assessment" which isolates incorrect questions and provides (Detailed Explanations) to ensure students know exactly how to derive the correct answers. Easy-to-read graphs show the student's areas of proficiency and areas of weakness, along with where their speed is on target, or where they are too slow. This state-of-the-art tool gives our students a systematic approach to review & master the required exam material and increase their scores.

Because most contractors are active individuals out & about in the field each day, the experience of sitting in a cubical for 6 hours straight, taking a State certification exam on computer is very stressful. Especially when they have never used, nor ever even seen, the computer program they are being tested with. Our students have a tremendous advantage because our proprietary "Practice Exams" were designed to explicitly match the real State exam. It has the same look, features, and functionality so our students can practice using this program BEFORE they sit for the real deal.

Note: For piracy protection reasons users are restricted to five openings per module.

In fact this module is such an invaluable tool that even instructors at competitive schools encourage students to purchase this program to pass the exam.

View this video for more information on these modules.

$125 Practice Exams - Roofing Trade Knowledge Exam
---
Live Classroom Instruction
---
Classroom Instruction:
Over 15,000 students have successfully utilized our "Software" and "Online" programs to pass their exam on the first attempt, and verify the quality and success of our school every day. You are welcome to review their comments and even contact graduates yourself on our References Page.
However, we also offer our lectures in a traditional instructor-led classroom setting for students who desire this option. These live classes are subject to change based on student need and number of attendees.
The locations and dates of our optional live classes are listed below with the corresponding registration page.
Orlando, Weekend Classes $200
(10 days before Exam)
Time: Saturday & Sunday, 8am - 5pm
Location: Rosen Centere
9840 International Drive
Orlando, FL 32819










---
Roofing Trade Knowledge "Books and Tabs"
---
Exam Reference Book Set:

These are the Exam Reference Books at a bundled and discounted price.

Florida State Roofing Contractors Trade Books
-Building Estimator's Reference Book
-Code of Federal Regulation (OSHA) Title 29, Part 1926
-N.R.C.A Roofing Set and Waterproofing Manuals
-SMACNA Architectural Sheet Metal Manual
-Roofing Construction & Estimating
-Florida Building Code, "Building"
-Florida Building Code, "High Velocity Hurricane Zones"

To view the State of Florida's list of required Exam Reference Books: click here
To purchase any of these books individually: click here
---
Quick Location Tabs:

Our professionally printed tabs are absolutely the best available. They are continually updated to reflect the most current exam content, they're also large, easy to read, and uniquely color-coded for ease in use. BLUE is for pages related to the common math problems and formulas. BLACK for pages of common look-up questions. And, RED pinpoints locations to begin a detailed search (Table of Contents, Indexes, Glossary's etc.). This exam instructor developed collection of over 300 tabs will be your most valuable tools on exam day, allowing you to flip directly to the correct answers quickly and easily.

Pre-Printed, Exam- Approved "Reference Book" Tabs

---
Roofing Trade Knowledge "Package Discounts"
---
IF YOU ALREADY HAVE YOUR BOOKS
Learning Program Package:
This package is designed to give the student who already has their "Exam Reference Book" and all-inclusive offering of our Entire "Learning Program" at a bundled and discounted price.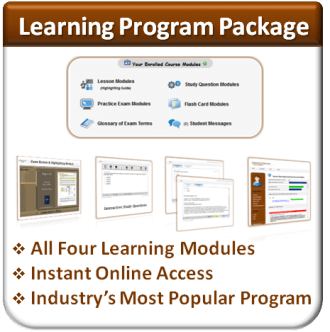 Learning Program Package:
Save $100
Learning Program

(All Four Modules)

$575

Learning Program Discount

($100)

Learning-Program Package
$475


$475 Roofing Trade Knowledge Learning Program
---
IF YOU ARE JUST STARTING OUT
Exam Prep Package:
This package is designed to give the student an all-inclusive offering of our Acclaimed Learning Program with Exam Reference Books and Tab Set, at a bundled and discounted price.

Exam Prep Package:
Save $200

Learning Program

(All Four Modules)

$575

Exam Reference Book Package

$1,425

Quick Location "Tabs"
$50
Exam Prep Pacakage

(All Four Modules)

$2,050

Learning Program Discount

($300)

Exam Prep Package
$1,750


$1,750 Exam Prep Package - Roofing Trade Knowledge Exam
---
If you have recently taken the Florida General, Builder or Residential Contractors exam: click here
---
Confirmation and Shipping:
For your security, all Credit Card transactions are validated through the secure PayPal processing system. You will not be required to open an account with PayPal, nor will they charge you any additional fee for this transaction.

Upon your authorization of payment, the order will be transferred to us along with a confirmation E-Mail to you. If you do not receive a confirmation within one business day of placing an order, please contact our office

Upon shipment, an email will be sent to you with a UPS tracking number for your convenience.
The above prices do not include shipping & handling or sales tax if applicable.